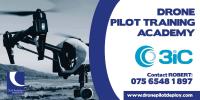 8 Cadger Road, Carryduff, Belfast, BT8 8AU (Show me directions) Show Map
Monday to Thursday: 10:00 to 18:00 , Friday to Saturday: 10:00 to 13:00 , Sunday: Closed
Visa
Profile
Robert Dobbin is Northern Ireland's top Drone Pilots and has over 7 Years experience flying all types of drones, Robert has a fleet of 7 drones available for multiple purposes. Robert provides fast and reliable Drone Roof Surveys, Drone Inspections aerial photography services and across Belfast and Northern Ireland.

Robert Dobbin is a full time A2 & GVC & FPV Drone Pilot, Drone Pilot Instructor, Fixed Wing Drone Pilot Instructor & Flight Assessor

Drone Pilot Training Academy Belfast, Northern Ireland Drone Pilot Training course available. DJI Drones For Sale DJI Authorised Dealer Belfast, DJI Flight Simulator for drone pilot training for those wishing to become commercial drone pilots in Northern Ireland and in Ireland.
Verified on Central Index
Drone Pilot Training Academy Belfast
Verified ID: 1164100065386496
Verified 05/12/2022 @ 18:10:13
Last updated 05/12/2022 @ 18:10:15
Learn more