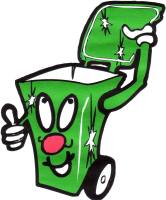 Profile
Impressum
Professional Bin Cleaning Service

Green Cleen (Belfast) Limited
17B Old Seahill Road
Holywood
BT18 0EG

Mobile: 07763354369
Tel: 02890424647

Email: Belfast@greencleen.co.uk
Web: www.greencleen.co.uk/belfast

Directors:

David Murdock
Joshua Murdock
Samantha Murdock

Company Registered Number: 10231475

Approved by Belfast city council, Environment Agency and The National Association Of Wheelie Bin Washers
Long Description
Green Cleen (Belfast) Ltd provide a professional domestic and commercial bin washing service throughout Belfast. We offer a low cost and regular solution to the problem of unhygienic waste containers by washing, disinfecting and deodorising bins regularly using specialist bin cleaning equipment and approved eco-friendly chemicals. We only use bespoke bin washing machines built by our own engineers and technicians. Our operatives have received approved training and will wash your bins to the highest industry standards. All Green Cleen bin cleaning machines recycle the water used in the cleaning process before depositing the waste water at a registered site approved by Belfast City Council. We only use approved chemicals making our system environmentally friendly. We are fully insured, registered with the Local Council and the Environment Agency.

We will arrive at your premises the same day as but after your wheelie bins have been emptied by the bin men. We will clean your bins before applying our eco-friendly fragrance which will leave your bins smelling great! Your bins will then be returned to your property from the kerbside and you will receive a customer receipt. There is a variety of different payment options available to you including cash, Direct Debit, or pay with a credit or debit card over the phone or through our website www.greencleen.co.uk/belfast. If you pay for the service in advance you will receive some special offer discounts.

Green Cleen (Belfast) Ltd also offer our fully licensed commercial bin cleaning solutions to the healthcare, education, leisure, retail, industrial & FM sectors across Belfast. Our specialist company manufactured bin washing equipment is rigorously tested for suitability and capable of cleaning all specification waste containers complying with all Environment Agency, DEFRA & Local Water Company guidelines.

Quotations available upon request.
Documents
Add rich content via our editing tools
Remove ads from your listing
Appear more prominently in search results